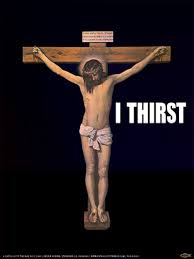 Jesus thirsted for you by name on the cross. And did you know that his "thirst" fulfilled this 1,000 year old Messianic prophecy:
"Parched is my throat like clay in the baking, and my tongue sticks fast in my mouth… I look round for pity, where pity is none, for comfort, where there is no comfort to be found. They gave me gall to eat, and when I was thirsty they gave me vinegar to drink."
How can anyone study all of this and not believe? Our faith is amazing!